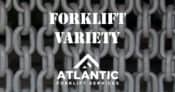 Forklifts are the workhorses of your facility, lifting and retrieving materials that are too large or heavy to manage manually or that need to be stored in an unusual location.
However, different lifts are built for different things, something you might not consider when building your forklift fleet.  Let's take a look at three reasons you might want to consider a little variety in your choice of forklifts.
OPTIONS: As much as we may try to stay ahead of potential malfunctions and maintenance issues, sometimes things happen and a lift needs to be taken out of service. Having a variety of forklifts in your fleet means that even though they may be designed for slightly different functions, they can be pressed into duty in a crisis.