Dock and Door Services in Charlotte, NC
It may be the most critical area in your warehouse- the bridge between what's coming in and going out.
Call us with any questions: (704) 816-8960
The loading dock and doors need as much love and maintenance as any other part of your facility, and Atlantic Forklift Services can help ensure your loading dock stays safe and functional at all times.
Don't take your loading dock for granted, it is so much more than the ingress and egress for your facility.
Our technicians and experts can keep your loading dock running safely and smoothly- ensuring your facility just keeps humming along as well.
Dock Products
Blue Giant dock products represent the latest in dock equipment technology. When you install one of our innovative and versatile dock products at your facility, you benefit from the best and latest that the industry has to offer.
No matter what the application, we have a dock solution that offers:
Strong and reliable operation
Low cost of ownership
Reduced maintenance costs
Dock Levelers
Blue Giant dock levelers are innovative, technologically advanced, and ensure maximum productivity in the most demanding loading dock environments.
No matter what the application, we have a dock solution that offers:
Strong and reliable operation
Low cost of ownership
Reduced maintenance costs
Vehicle Restraints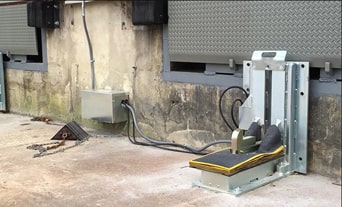 The Blue Giant StrongArm™ line of vehicle restraints secure all types of trucks and trailers at the loading bay. Hydraulic, electric, air-powered, and mechanical systems available.
Protect your staff and equipment from:
Vehicle creep
Unscheduled truck departures
Careless parking
Seals and Shelters
The Blue Giant portfolio of premium dock seals and shelters includes innovative yet durable designs for all needs and applications. Benefits include:
Energy conservation and temperature control
Safer working conditions
Extra protection for products and packaging
Touch Controls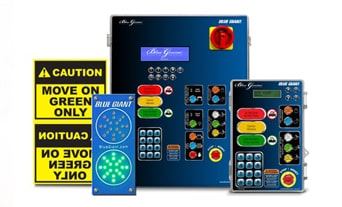 Blue Genius™ Touch Control Panels are the latest evolution in intelligent dock control technology. Available in the best-selling Gold Series and the new and innovative Master Control Panel.
Operate an entire dock system from one convenient and safe location
Easy and flawless upgrades
Improve efficiency, safety, and productivity
Lift Products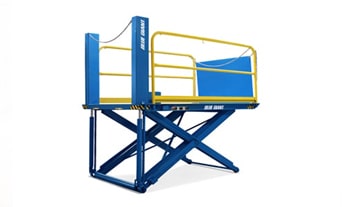 Scissor dock lifts turn any ground level area into a functional loading dock. Scissor dock lifts (aka elevating docks) can be built in virtually any size and capacity required for the application.
Service trucks at any height
Ground-level access for fork trucks
Capable of height adjustments up to 59″
Little accidents and regular daily wear-and-tear can beat up a loading dock pretty good. AFS technicians and experts can conduct a thorough inspection of your dock area to identify potential trouble areas.
Dock operation is much more complicated than just moving materials in and out- there are lighting and safety systems, vehicle restraints, pedestrian and vehicle regulations, safety bumpers and barriers and hydraulic lifts and levelers.
All of these need to be inspected and maintained regularly.
An inefficient or unsafe loading dock can not only slow your facility down, it can also cost you money in injuries, equipment damage, or damage to the facility or materials.
AFS can work with you to establish a preventative maintenance program and checklist that includes keeping the area clean, safety procedures and precautions, forklift operator training, bumper inspection and lift and leveler maintenance.
In the event any of these systems need repair or replacing, AFS can facilitate that as well.