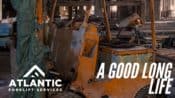 There's no question your investment into your forklift fleet is a substantial commitment.  Why, then, wouldn't you want to ensure your forklift lives a good, long life?
Of course you would- and here's how you can make sure that happens.
You already know that your forklift can take a beating, carry a heavy load (literally and figuratively) and be the workhorse you need it to be in your facility.  That doesn't mean it doesn't like a little TLC.
If not properly maintained and cared for, your forklift's life can be shortened, and that costs you money and time.
Take the time to set a comprehensive short and long-term maintenance plan. Pay more attention to your fleet during heavy use periods. Compare last year's usage patterns to current hours and see if you're asking too much of your fleet and need to augment with more units.