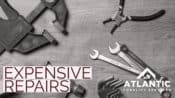 Anyone who has ever owned a car knows that now two repairs are alike.  Some are simple, other more complicated and it may be the easiest fixes that end up causing the most trouble.
Of course, following recommended routine maintenance procedures can great alleviate both problems and costs.
The same is true with forklifts.
Repairs to lifts can vary between routine and inexpensive, and complicated and costly. Maintenance and routine inspections can go a long way towards keeping fixes on the routine and inexpensive side.