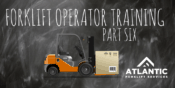 So far in my on-line training, I've learned a LOT about forklift safety and the Stability Triangle, which now that I think about it has a lot to do with safety as well- so it's safe to say at this point that the on-line portion of the training is very much about not getting you or your co-workers hurt. It's time well-spent.
The next section involves inspection and maintenance and there's a heavy dose of common sense in here as well.
It starts the way every shift should start- with the visual inspection.  Around the tires, inside the mast, check the safety apparatus (horn, emergency brake, seat belt, reverse alarm, gauges, etc) and make sure the forklift is properly lubricated and that there is no new damage from the operator before you. There's more, but you'll have to take the course yourself to find out about the extras.