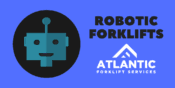 As time marches forward, technology eventually catches up with every business- and the materials handling industry is no different. The latest trend is an underlying debate over so-called" robotic" forklifts.
More popular at the moment in Europe, these robotic forklifts do offer some advantages, but at this point- as we'll see here- the potential pitfalls are outweighing the positives.
Mostly used in horizontal applications like order-picking and transportation of materials, the robotic lifts navigate using a complex system of lasers, reflectors, magnets and wires embedded in the facility to dictate their routes.
Some facilities with multiple units have seen some traffic issues as their robotic forklifts attempt to pass each other in tight aisles. This would mean many warehouses would have to redesign their facilities to create wider passage.