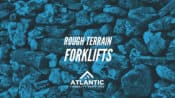 The forklifts in most warehouses and manufacturing facilities are perfectly sized to accomplish the tasks at hand – but some jobs require a little more muscle.  For those bigger tasks, we give you the rough terrain forklift.
Class 7 forklifts are specifically made for rough terrain and are mostly used outdoors at construction sites and facilities with challenging terrain and heavy loads.
Even though these trucks are specifically built for rough terrain, that doesn't mean every type of heavy duty forklift is made for every type of situation.  Rough terrain forklifts come in three types: telehandlers, straight mast, and rotating telehandlers.
In spite of the design elements specifically built for certain situations, a tremendous amount of care is necessary to ensure these lifts operate safely in uneven and treacherous situations. Raising and lowering a load must be executed on a level, stable surface. These trucks are big, but they can still tip if the driver is vigilant about the safety procedures.