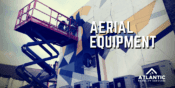 We've added a potentially critical element of your operation to our catalog of warehouse equipment- Skyjack Aerial Equipment.  Scissor lifts, boom lifts and man lifts are now available through us for purchase or rental.
Colloquially known as "cherry-pickers" these versatile lifts can be the addition to your facility you've been looking for- they're made to move materials and your employees vertically!
In fact, aerial machinery can manage a lot of jobs more efficiently and more safely than other pieces of equipment- improving safety and saving you money in the long run IF you have the right piece of gear for the right job.
Scissor lifts are built to move your people and some equipment or materials high in the air, some models as high as 60 feet. They can help employees in places where otherwise a scaffolding or high ladder might be necessary. Scissor lifts do still require safety harnesses and cables, but a fall is much less likely out of a scissor lift than a scaffolding or some wonky ladder.