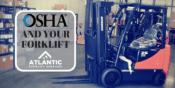 Your forklift operators have been trained on the appropriate trucks and know those units back to front, but did you know that if you add any attachments or alter the forklift in any way operators must be trained again?
OSHA has a list of requirements for attachments and any item that alters the truck's center of gravity, visibility or capacity.
Some of the attachments commonly found in a warehouse might include slip sheet attachments that fit over the forks and allow shipping and receiving of materials without pallets; sideshifters that allow the forks to be adjusted to the right or left- either manually or mechanically; carton and barrel clamps; paper roll or carpet handlers- usually a long shaft that extends out from the forklift; bale clamps; rotators for grabbing and rotating the load; telescoping forks; and personnel platforms made for lifting and carrying people.