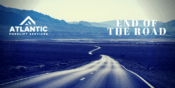 Nothing lasts forever, and there are definite signs to look for to determine if your forklift is nearing the end of the road.
After some years, all forklifts will start to have trouble. At a certain point, continuing to drive the same lift into the ground will stop making financial sense. It's actually easy to tell when an aging forklift is ready to be sent upstate to play on the farm with the other forklifts.
If you have accurate and thorough maintenance and repair records for the unit you can estimate when its time has come.