With a few new products from Doosan, we'd like to highlight some benefits and features: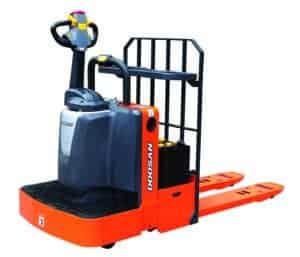 These class III material handling trucks are used in conjunction with other sitdown rider units in most industrial applications for their lower cost and tight maneuvering capabilities. There are times when a different driver classification is used – maybe utilized by a production line or machine operator instead of a full time forklift driver.
– The rider pallet BWR33S truck is very commonly used as a transporter for long runs or to load trucks in a dock application.
– The BW17S straddle stacker is most often found in narrow racks or in tight areas around machinery.
– The BW23S is found inside many delivery trucks for moving pallets from the front to the back of a tractor trailer or unloading any kind of delivery truck.