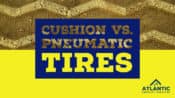 The type of tire you're going to want to choose for your forklift fleet depends very much on the type of terrain where your trucks will be operating.
The fact is most environments require specific tires, and some due diligence may be required before you make a purchase. The safety and performance of your fleet depends on this decision, so do not take it lightly.
Here's what you need to consider before making the final decision on your forklift tires:
In what type of environment will your forklifts be operating?