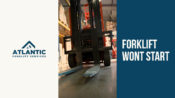 Your forklift operator has conducted his (or her) pre-shift inspection, climbs on board the truck, turns the key… and is greeted by silence. This is trouble as your forklift is an integral part of your operation.
Here's how to perform an initial troubleshooting in the event your forklift just won't start:
Check your dash display.  Is there an alarm? Forklift dash alarms are similar to a car's in that if something is lit up, chances are something's gone wrong. Perform a diagnostic test to work to determine where the problem might be. Your mechanics should be able to do this and pinpoint the problem in no time at all.  Check those dash alarms first, a quick assessment of the trouble can save you time and money.