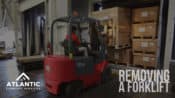 Productivity and safety don't have to be adversaries, though it sometimes takes some effort to make them work together.
You may be tempted to allow a damaged or compromised forklift to remain on the floor, but the fact of the matter is, there are instances where even a slightly damaged must be taken out of service. OSHA makes sure of that with a list of conditions under which a lift must be taken out of service.
LEAKS: Liquid fuels are considered to be hazardous materials and you don't want anyone to be exposed to oils and gasoline. The fumes can be dangerous, most are flammable, and coming in contact with bare skin can cause irritation. Any type of leak must result in the removal of the truck from the floor until the repairs can be made.