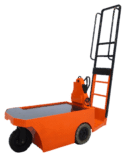 When you think of moving vehicles in a warehouse, the first thing you think of is probably a forklift.  Sometimes you may need to move cargo or people around without tying up expensive and productive material handling equipment.  This is where the warehouse vehicles from Doosan come in.  Not many dealers offer a brand made by their OEM. 
The Burden Carrier can carry anywhere from 4,400-6,600 lbs.! You can add a tailgate and rails to further secure the load.
The Personnel Carrier is a smaller option that can handle about 660 lbs. which make it an easily maneuvered piece of equipment.