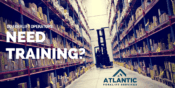 Yes, they do. We hope you've enjoyed reading this blog entry. Seriously, forklift operators need training and it's not just for them, it's for everyone who has to work around them as well.
Remember when you learned how to drive a car? It seemed overwhelming at first, and a little intimidating, and it took you a few years before driving became second nature.
Now, imagine you're about to drive a forklift. Forget what you know about driving a car because driving a forklift is very different.