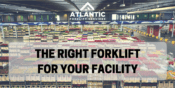 Workplaces are like snowflakes. From a distance, they seem very similar but each one is distinctly different. So, choosing the right forklift for your facility can be a challenge.
Maybe you have narrow aisles and wide loads- or need to store materials very high, or on the floor. Each variable has its own requirements when it comes to forklifts, and there is a forklift for each need.
Let's start with narrow aisles, a common situation in warehouses where space is at a premium.
The first question you need to answer is "How high are we lifting our product?" This affects the center of gravity on a forklift and makes the space the lift has to work in that much more important. The amount of space combined with the lift capacity of the truck will dictate which forklift you may need.