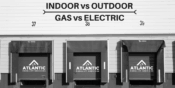 The Electric vs. Gas forklift debate involves a little more than which use may be best for your indoor facility. There are very real differences if you will be using your lift outdoors, as well.
We've covered the cost difference, so let's just talk about functionality, starting with a gas-powered lift.
Gas-powered lifts can just flat-out lift heavier loads than an electric lift. This, alone, may be the deciding factor in your purchase.
The performance of the gas-powered life remains constant even as the unit's fuel supply is running low. That's not necessarily the case in a battery-powered lift.
Using a gas-powered lift means generally you don't have to be concerned with managing the exhaust of the unit.