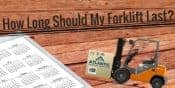 Like just about anything in this world, your forklift will eventually wear out.  It's the circle of life. So… how long should a forklift last?
With proper maintenance- regular checkups according to the manufacturers recommendations, oil changes, grease applications and run-of-the-mill usage, etc- a new forklift should last about 10,000 hours.  Assuming a 168-hour month (that's 8 hours a day for a month) your lift will run for five years.
After that, you can have your unit rebuilt and it can run like a champ for another 6,000-8,000 hours more.
You can tell if your forklift is beginning to show its age if the engine starts burning through oil faster than it used to, if the transmission starts slipping a bit, if the mast components start wearing out, or if the steering axle fails.  Any one of these can be spotted just by paying attention to your forklift or through regular inspections, which you should be performing anyway.