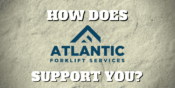 Our commitment to you, the potential forklift owner, begins at the moment you realize you need a forklift.
Our staff can help you determine what type of forklift is best for you by coming to your worksite and evaluating the loads you'll be moving, the width and height of your aisles and even the condition of the surface the lift will be operating on. We can look at your workflow and help you choose between gas and electric, and the size of the forklift you will need.
We also supply rental units if your needs are temporary, or if your current forklift needs to be down for a day or two.
Once you purchase from us, our support really kicks into high gear.