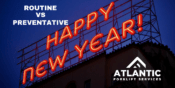 With the new year approaching, many of us will be making resolutions to get healthier, maybe drop a few pounds and eat better.
We're asking you to make the same commitment to your forklift in the new year, and to do that, much like you do with yourself- you have to understand the difference between "Preventative" and "Routine" maintenance.
For example, your own routine maintenance may start in the morning when you brush your teeth. The forklift equivalent might be checking the tires at the start of every shift, or making sure your mast and the surrounding elements are appropriately lubricated.
Your preventative maintenance routine may include a daily vitamin, or a regular checkup with your physician.  The forklift equivalent would be changing the engine oil and filters according to the manufacturers schedule, or getting a regular check-up from your forklift service provider.