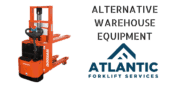 You've got product to move around, but it's not especially bulky or heavy, or maybe it doesn't need to be moved around a lot.  A giant forklift (and the cost) just doesn't make sense for your operation.  DO you have options?
Of course you do.
Atlantic Forklift Services offers a complete line of warehouse equipment that can get your job done without having to purchase a full-blown forklift.
Let's start with a standard hand pallet truck.  You've seen these before at giant warehouse stores like Sam's Club, it looks like a forklift but it's operated by one walking employee.  The forks lift just enough to get a pallet or two off the ground to move it a reasonable distance. Not necessarily intended for large heavy loads, these lifts are good in confined areas and can help your staff work smarter, not harder.