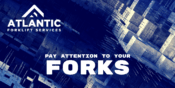 If there is a part of your forklift that is most taken for granted, it may be the fork. It's the first word in FORKLIFT, it's the part of the vehicle that always… ALWAYS… comes in contact with what you are moving and it gets the least amount of attention when it comes to maintenance.
They are simple if you look at it. One piece of hearty metal, bent into an "L" shape, maybe the simplest part of the entire forklift, but like any other part of the machine, they need some attention, too.
Start with adding the forks to your daily routine start-of-shift inspection. Look for damage (forks are tough, but they do get damaged.)  Look for any signs of compromise in the structure of the fork.
Look for surface cracks. Pay attention to the heel of the fork- the part where the front (the blade) bends into the vertical part (the shank). Make sure both blade and shank are straight.