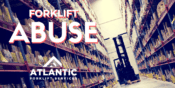 A few entries ago, we mentioned something that started a conversation.  We stated that typically, most of the damage to a forklift is caused by (insert drum roll here) employee abuse.
That raised some eyebrows among our customers.
To be clear, usually damage to a forklift is not caused by mindful reckless conduct (although that does happen). It's caused by employees who may not know better due to lack of training.
The internet is loaded with videos of forklifts toppling over due to an unbalanced load or traveling on an uneven surface. While the milder of these can be entertaining to look at as long as you're not the owner of that truck, the truth is these incidents are extremely dangerous and every year employees are killed in accidents involving forklifts, so they're no laughing matter.