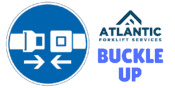 Believe it or not, seatbelts are only recently mandatory safety equipment on a forklift.  While, technically, OSHA doesn't directly mention seatbelts by name they're firm enough about the wording that we know they're very serious about the seatbelts.  You should be, too.
Here's the thing: while a forklift rarely travels at a high enough speed for the driver to be in any real conventional danger there are plenty of other hazards that make a seat belt absolutely necessary. It's not about the speed.
If a forklift is tipping over, the driver's natural instinct would be to jump out.  That's exactly the wrong thing to do and a seat belt can efficiently prevent that from happening. It's critical in a tip-over situation that the operator remains within the roll cage of the forklift. Sobering statistic of the day: according to OSHA, 85 operators are killed every year in the US in forklift accidents.  Stay belted in. Stay in the cage.