There are many different safety features that come standard on today's forklifts. Features like steering wheel horn, rear grab bar horn, back up alarms, headlights, rear lights, signal lights, and strobe lights are all typical standard safety features, however there is a newer piece of technology that is proving to be a vital safety feature for many companies.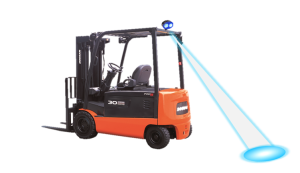 What makes the blue safety light a great addition to your equipment? Many industrial companies operate within a loud environment and an alerting noise may not be enough to stop a pedestrian from a run in with a forklift.
The blue safety light can be attached to the front, rear, or both to provide a visual safety feature that the others stated above cannot. The blue light when positioned correctly on a forklift will shine and hit a floor area about 15-20 feet in front or behind the lift truck. This differs from other safety features as it is completely visual, but more importantly it gives pedestrians a 15-20 foot visual warning a lift truck is near. Although a strobe light offers a visual warning, it does not give the assistance for areas like corners or entry/exit into warehouses through doorways. As many warehouse and manufacturing companies struggle to find a safety feature to combat noise the blue safety light is the perfect
Download our Blue Light Safety brochure here!