Hand Pallet Trucks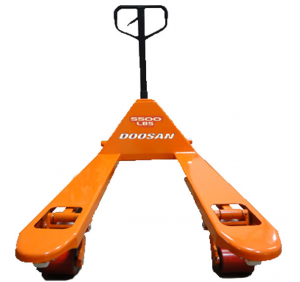 Highly efficient and reliable forklifts with productivity enhanced features.
Features:
Totally enclosed bearings that guard against failure from dust and prolongs service life.
A steel drawbar with protected handle for extra safety and strength.
Pivot mounted large polyurethane steer wheels to ensure stability on uneven surfaces.
202° steer handle arc enables easy maneuvering of pallet truck in confined areas.
Large polyurethane wheels for improved stability and allows for quiet operation.
Contact the sales team at 704.816.8960 or sales@atlanticforkliftservices.com
| Model | Load Capacity | Load Wheel | Steer Wheel | Forks |
| --- | --- | --- | --- | --- |
| HPT28 | 5,500lb | 2.9" x 3.7" | 7.1" x 2.0" | 27" x 48" |